New York, NY. October 6, 2023 / Mediamark Digital /
The world of travel is vast and diverse, offering experiences that transcend boundaries and cultures. For those passionate about exploring new horizons and seeking adventure, the Uzakrota Travel Summit in Baku, Azerbaijan, presents an exciting opportunity. Scheduled for October 20, 2023, at the elegant Hilton Baku, this summit promises to be an enriching experience, bringing together over 30 renowned speakers and more than 500 attendees from across the globe.
An Exploration of Uzakrota
Uzakrota, founded by Gokhan Erdogan in 2010, has established itself as a leading platform in the travel industry. Over the years, it has garnered recognition and accolades, including awards like the World's most effective tourism awards in 2018, 2019, 2020, 2021, and 2023. In a significant development, Gokhan Erdogan sold Uzakrota to Wtatil for 5 million euros in March, but he continues to steer the ship as its General Manager.
The Heart of the Event: Baku, Azerbaijan
Baku, the capital of Azerbaijan, serves as the perfect backdrop for this grand travel summit. Known for its blend of modernity and history, Baku offers a unique setting for a gathering of travel enthusiasts, professionals, and industry representatives. With its rich cultural heritage, stunning natural landscapes, and vibrant atmosphere, Baku is a destination that invites exploration.
The Uzakrota Travel Summit 2023 will encompass a diverse range of events and activities to engage attendees and foster meaningful connections:
Talks and Panels: The summit will feature engaging talks and panels led by experts in the travel industry. Topics will span a wide range of subjects, including sustainable travel, emerging travel technologies, and the future of travel post-pandemic.
Stands by Tour Operators and Travel Agencies: Attendees will have the chance to interact with tour operators and travel agencies from around the world. This provides an excellent opportunity to discover new destinations, plan future adventures, and gain insights into personalized travel experiences.
Travel Raffles and Competitions: Excitement will be in the air as attendees participate in travel-related raffles and competitions. Prizes could range from all-inclusive travel packages to exclusive experiences in some of the world's most coveted destinations.
Airlines: Major airlines will also have a presence at the summit, offering attendees the chance to learn about the latest flight options, loyalty programs, and travel perks.
Travel Technology Companies: In an age where technology plays a vital role in travel, the summit will showcase innovations in travel tech. From booking platforms to virtual reality travel experiences, attendees will gain insights into the future of travel technology.
Examples of Events: The summit's program includes exciting sessions such as "Discover Azerbaijan," providing a deep dive into the country's history, culture, and natural beauty. "The World's Most Beautiful Destinations" tour will take attendees on a virtual journey to awe-inspiring global destinations, while the "Traveling Tips" workshop will offer valuable insights into making travel more enjoyable and efficient.
One of the most enticing aspects of the Uzakrota Travel Summit is that attendance is entirely free. This accessibility ensures that individuals from all walks of life can participate and immerse themselves in the world of travel. Whether you're a seasoned traveler or just embarking on your journey, there's something for everyone at this event.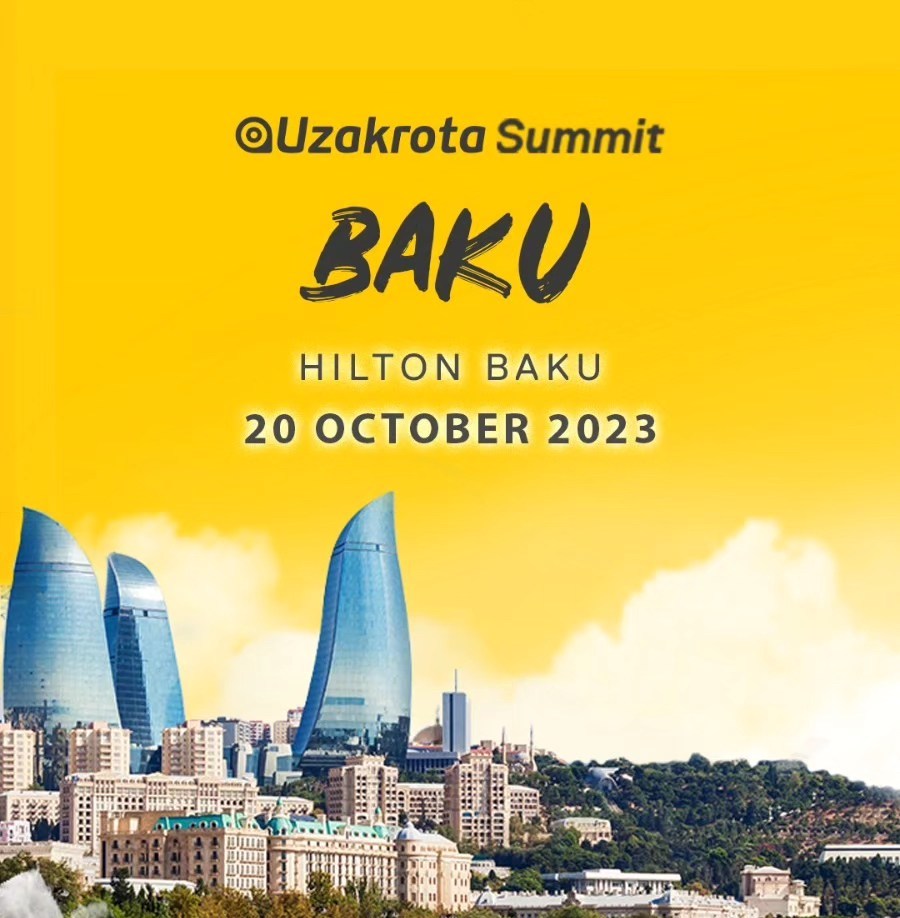 Event Details
Date: October 20, 2023
Location: Hilton Baku
Time: 9:00 AM – 6:00 PM
Attendance: Free
To learn more about this exciting event, visit Uzakrota's official website at Uzakrota.com/baku23. Don't miss out on this unique opportunity to discover the world of travel in all its splendor.
---