New York, NY. October 6, 2023 / Mediamark Digital /
The excitement is palpable as Baku plays host to the NASA Space Apps Challenge, an event that promises to bring together minds from diverse backgrounds to tackle some of the most pressing challenges both on Earth and beyond. Taking place on October 7th and 8th at Innoland, Baku, this face-to-face event is set to ignite creativity and innovation like never before.
The NASA Space Apps Challenge is not your average hackathon. It's a global phenomenon that encourages collaborative problem-solving, open-source solutions, and the kind of out-of-this-world thinking that could change the course of history. By participating, individuals get the unique opportunity to connect with fellow problem-solvers and work on real challenges provided by NASA.
Bridging the Gap Between Earth and Space
This extraordinary event is not just about coding and technical wizardry; it's about fostering a deep interest in Earth and space science and exploration. It's about inspiring the next generation of scientists, technologists, designers, and engineers. It's about bringing people together to transcend boundaries and create solutions that matter.
Asif Ibrahimov, the Head of the Hackathon, shares his enthusiasm, "We're thrilled to bring the NASA Space Apps Challenge to Baku. It's not just a competition; it's a platform for dreamers, thinkers, and doers to come together, collaborate, and make a difference. Whether you're a seasoned coder or a newbie, whether you're a scientist or an artist, your perspective matters, and this event is your chance to shine."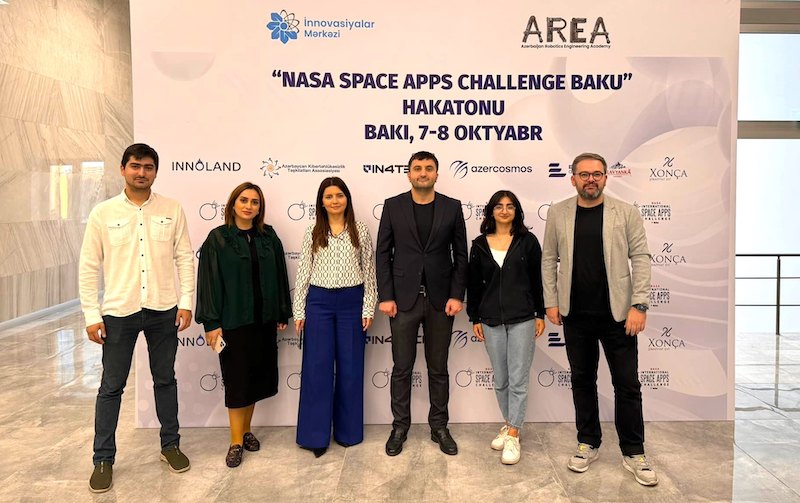 More Than Just "Apps"
Don't be misled by the word "Apps" in the title. This event isn't just about building mobile applications. It's about leveraging spatial data to find solutions to spatial and terrestrial problems. The best teams often comprise a mix of ages, skills, and experiences, and incredible projects have been born from the simplest of materials. As they say, some of the most innovative solutions can emerge from nothing more than cardboard and creativity.
As Orkhan Rzayev, the Managing Director of Mediamark Digital and one of the esteemed mentors of the hackathon, puts it, "The NASA Space Apps Challenge is a platform where innovation knows no bounds. It's not just about being a math whiz or a tech guru; it's about the power of diverse minds coming together to find ingenious solutions to complex problems. So, don't let any self-doubt hold you back; your ideas and skills can truly change the world."
Win Fantastic Prizes and Make an Impact
The NASA Space Apps Challenge in Baku promises not just a chance to make a difference but also fantastic local and global prizes for the most innovative solutions. It's an opportunity to connect with like-minded individuals, mentors like Orkhan Rzayev, and organizers like Asif Ibrahimov who share a passion for exploration, innovation, and changing the world.
So mark your calendars for October 7-8 and join the NASA Space Apps Challenge in Baku. Whether you're a space enthusiast, a tech aficionado, or simply someone with a passion for solving problems, this event is your gateway to making a real impact. Your ideas and skills have the power to change the world, and the stars are the limit!
---